See a preview of the new live DVD video, "Swamp Fever"
You can also click on any song title below to see complete songs from the first live Tom Rigney and Flambeau DVD,
"Live at the Throckmorton Theatre" .

HERE IS A SHORT VIDEO PREVIEW FROM THE NEW LIVE DVD. THIS CONCERT WILL BE PART OF THE NEW PBS MUSIC SERIES, "MUSIC GONE PUBLIC", PREMIERING IN THE SPRING OF 2015. WATCH FOR IT ON YOUR LOCAL PBS AFFILIATE STATION!
IN THE MEANTIME, CHECK OUT THIS SCORCHING HOT VIDEO TRAILER--
TOM RIGNEY AND FLAMBEAU, LIVE AT THREE STAGES, FOLSOM, CALIFORNIA
| | |
| --- | --- |
| | A hot original Cajun two-step--Flambeau's signature opening number |
| DRIVIN' THAT THING | A big ol' blues shuffle--Flambeau's arrangement of the Mississippi Sheiks classic |
| PARTY GRAS | A scorchingly hot New Orleans dance party song |
| HOUSE OF THE RISING SUN | Tom's powerful version of this timeless New Orleans blues |
| SWANEE RIVER BOOGIE | Caroline Dahl's spectacular arrangement of the classic Stephen Foster tune |
| MAZATLAN | Tom's passionate and evocative samba |
| DO THE ZYDECO | A Flambeau zydeco rave-up--let's dance!! |
| THE EYES OF LOVE | A heartbreakingly beautiful waltz--an original Rigney composition |
| MY BABE | Tom Rigney and Steve Parks' rockin' version of the Righteous Brothers' classic |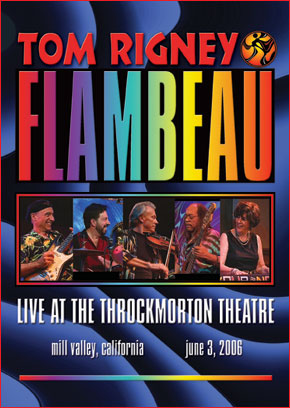 At last, the long-awaited first live Flambeau DVD video is out!
This full length live concert video was shot in June of 2006 at the beautiful Throckmorton Theatre in Mill Valley in front of a high-energy crowd of Flambeau fans. The DVD contains over 75 minutes of music, all shot in broadcast-quality digital video--six cameras and a crew of thousands! The disc contains many favorite songs and tunes from the Flambeau repertoire, including "Swamp Feet", "Mazatlan", "Party Gras", "Moonlight on the Bayou", and a roof-raising version of "Jambalaya".
Also included on the DVD is an in-depth interview with violinist/composer/bandleader Tom Rigney, offering a few glimpses behind the curtain of his musical life and history.
.