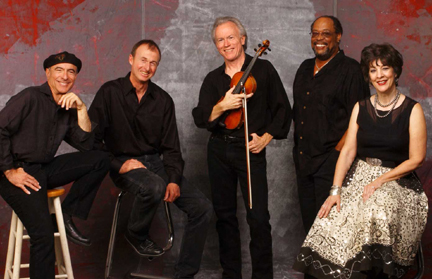 DANNY CARON: Electric guitar. Danny is one of the finest guitarists on the blues/roots music circuit--a master of all roots music styles, whose inspired improvisation and fiery soloing make him an excellent foil for Rigney. Prior to joining Flambeau, Danny was the guitarist and bandleader for the legendary bluesman, Charles Brown. He toured the world with Charles for twelve years, until Charles' death in 1999. In addition to his work with Charles Brown, Danny has also performed with Clifton Chenier, Marcia Ball, Maria Muldaur, and countless other blues and roots artists. Find out more about him at www.dannycaron.com.
CAROLINE DAHL: Piano Caroline has been with Flambeau since 2001. She brings a strong element of Boogie Woogie and New Orleans-style piano playing to the band, in addition to burning up the more traditional Cajun and zydeco tunes. Originally from Louisville, Kentucky, she has spent the past twenty years as a mainstay of the Bay Area blues and roots music scene, earning a reputation as a brilliant soloist, an exciting stage presence, and a strong ensemble player. Find out more about her at www.carolinedahl.com.
BRENT RAMPONE: Drums. Brent is the newest member of Flambeau, having joined the band in 2006. He is a powerhouse drummer who plays with clarity, precision, and fire. His grooves have an infectious, upbeat quality that is a powerful part of Flambeau's rhythmic signature. In a career spanning more than two decades Brent has performed, recorded, and toured with a wide range of roots, rock, and country artists, including Maria Muldaur, Billy C Farlow, and many others.
STEVE PARKS: Electric bass. Steve is the other half of Flambeau's great rhythm section. He is the ideal bassist for roots music, with a deep and unerring groove sense, a big tone, and a dedication to playing the bass line that locks down the groove. Originally from New Orleans, he has worked with numerous blues and R-and-B artists around the San Francisco scene for over twenty years.